now streamlined to IODPCoreImage
Version 0.1.28 (61) (macOS)
Here a little tool that accesses our database to generate core image tracks. See bottom of this page for an overview Poster pdf.
Please enter or select a ODP/IODP Site name in the field provided.
If a Site was previously viewed, images are pre-generated and or cached and should be fast.
Otherwise be a little patient.
This is currently macOS only, and alpha Quality.
IODP Core images are available at http://web.iodp.tamu.edu/LORE/
ODP images were partially extracted by the project 
 http://instaar.colorado.edu/~jenkinsc/IODPimagestrips/
Images displayed by IODPImageSplicer are downsampled from their original resolution to achieve acceptable processing speed (~500 pixels wide for IODP LSImg, ~100 for manually cropped core table photos).
Tip: after clicking on the main canvas, there is a zoom option (either from the View menu, or via keyboard short-cuts (⌘+, ⌘-)
https://paloz.marum.de/SparkleUpdaters/IODPCoreImage/IODPCoreImage.zip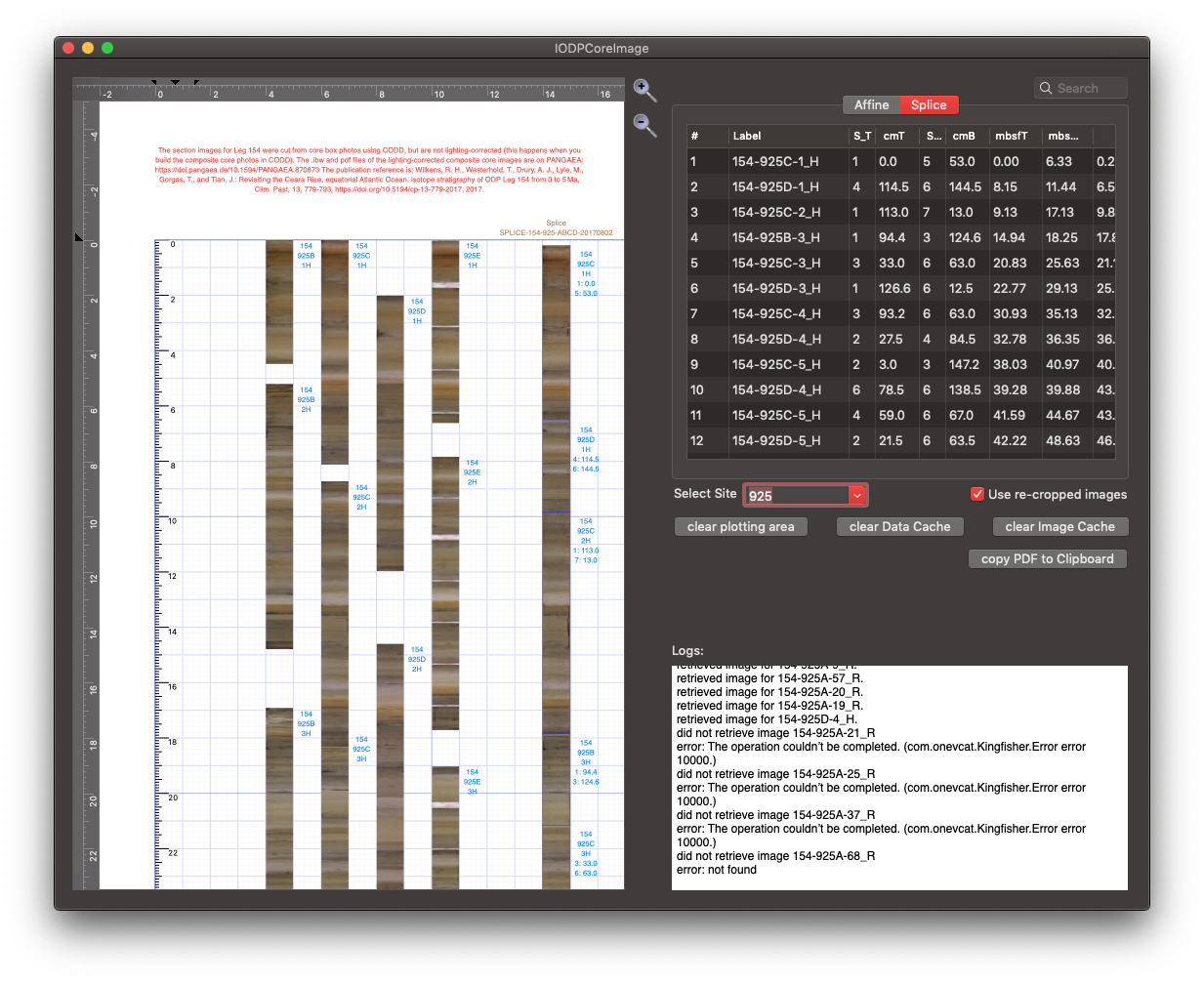 Citation: 
Drury, A.J., Kotov, S., Rochholz, F., Wilkens, R., Pälike, H. (2018), Uniform, Rapid, Open Access Database for Shipboard IODP/ODP/DSDP Images, Abstract [PP41F-1923] presented at 2018 Fall Meeting, AGU, Washington, D.C., 10-14 Dec. Drury Images Poster AGU2019_upload_sm2.pdf